Soteria Solutions helps local governments create and manage federally mandated Local Emergency Planning Committees (LEPCs) in order to integrate hazmat planning and response within their jurisdictions.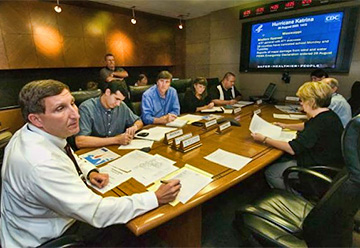 After a 1984 gas release in Bhopal, India killed over 8,000 people, U.S. Congress passed Title III, the Emergency Planning and Community Right-to-Know Act (EPCRA). For the first time, American citizens were made full partners in preparing for emergencies and managing chemicals risks in their communities.
Mandated by Law
In 2005, the federal government also recognized the need for integrated, all-hazards approach to emergency planning. A National Incident Management System (NIMS) and Local Emergency Planning Committees, or LEPCs were mandated by law.
However, little was done until Texas' rapid growth and an unprecedented shale boom revealed weaknesses in both emergency planning and emergency service infrastructure managed by city and county governments. A blistering January 2016 report released by the federal Chemical Safety Board about the West, Texas chemical explosion, revealed huge deficits in the way industry, local municipalities, stakeholders, communities, fire departments, EMS and police prepare for disasters.
Complex Regulations
Soteria Solutions helps municipalities deal with the complex regulatory aftermath of the West disaster and, the rapid expansion of formerly sleepy Texas enclaves, by helping communities create and successfully manage LEPCs.
LEPCs are planning entities that generally cannot commit manpower or resources. They provide a forum for discussions and action in matters pertaining to hazardous materials planning. LEPCs provide local governments and stakeholders with information about possible chemical hazards in their communities. Your local LEPC is the designated entity for public information in the event of a significant chemical release or other disaster.
In some states, LEPCs may be considered a subdivision of the state. In other states, they may be considered an entity under local jurisdiction. Sometimes they are have quasi-authorized entity status, separate from state and local agencies. Membership, at a minimum, includes elected state or local officials; law enforcement, emergency management personnel, firefighting, emergency medical personnel, health officials, local environmental groups, hospital personnel, transportation personnel; broadcast and/or print media needed to "get the word out" in an emergency; community groups (especially environmental activists and advocates whose participation channels energy and concerns into useful suggestions and honest work); and owners and operators of facilities.