Written by Michelle Joseph
La Salle County firefighters, medics and other emergency responders have made a visible statement of support for this year's Breast Cancer Awareness Month in October by wearing bright pink shirts on the job each day.
The project was funded by the county and approved by the commissioners' court as part of the nationwide 'Real Men Wear Pink' awareness campaign for the American Cancer Society. La Salle County's shirts this year featured the fire and rescue service's logo and distinctive cobra-themed 'strike back against breast cancer' artwork.
The brightly colored shirts are designed to attract attention to the need for increased awareness of cancer intervention and the need for a cure; American Cancer Society representatives have pushed for increased publicity in 2017 and accomplished it by garnering the support of local governments, law enforcement, firefighters, medics, schools, and community groups.
"I'm proud of our fire department for taking part in the 'Real Men Wear Pink' campaign and excited to see so many leaders across the country do the same," La Salle County Judge Joel Rodriguez said. "Our county commissioners' court was happy the county could purchase the pink t-shirts to allow the Fire Rescue & EMS team to promote breast cancer awareness."
The American Cancer Society reports that an estimated 252,710 people across the country will have been diagnosed with breast cancer in 2017 alone. In addition, 2,407 men will be diagnosed with invasive breast cancer this year. The society also reports that it believes huge strides have been made towards better treatment and finding a cure. Breast cancer death rates have declined by 38 percent from a peak in 1989 to 2014, representing 297,300 fewer breast cancer deaths today.
In addition to community and business leaders who support the American Cancer Society in its efforts to diminish the pain and suffering of breast cancer, communities across the country united in 'Making Strides Against Breast Cancer' events during October.
The American Cancer Society is a global grassroots force of nearly two million volunteers dedicated to saving lives, celebrating lives, and leading the fight for a world without cancer. From breakthrough research, to free lodging near treatment, a 24/7/365 live helpline, free rides to treatment, and convening powerful activists to create awareness and impact, the society reports that it is the only organization attacking cancer from every angle. For more information, go to www.cancer.org.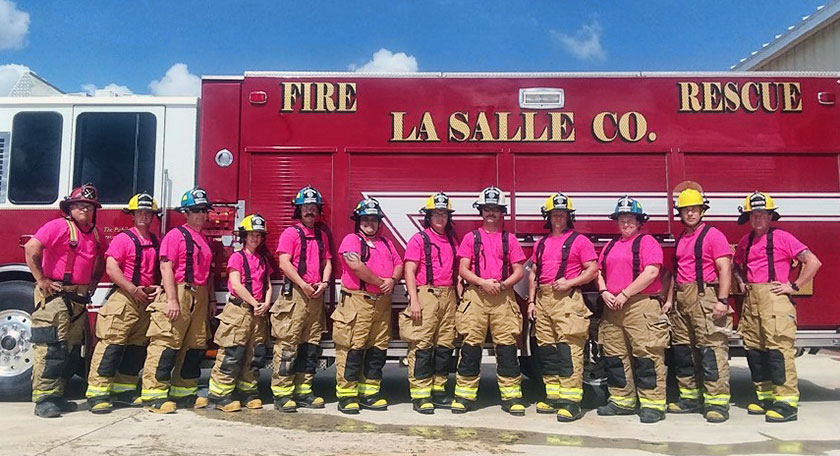 THE GREAT PINK OUT - La Salle County Fire Rescue & EMS crew members were joined by county government and law enforcement personnel, including administrators, judges, commissioners and staff, in marking October as Breast Cancer Awareness Month with a 'Pink Out' on Friday, Oct. 20, wearing the distinctive colored shirts for the commemoration to increase public recognition of the need to find a cure and to improve treatment for breast cancer patients. Photo: Marc Robertson